Our Products
We love cleaning products that are non-toxic, all natural, pet friendly, hypoallergenic, and good for the environment. Here are our favorites:
Branch Basics
Welcome to the healthy home revolution. Branch Basics is our absolute favorite nontoxic all purpose cleaner, free of harsh chemicals and fragrances. It's the not-so-secret-sauce that makes hardwood floors shine after a Vella clean. Get it on the Branch Basics website here.
Seventh Generation Dish Soap
What started as our go-to for washing dishes quickly turned into a Housekeeper favorite in almost every room in the home. This gentle but effective soap cuts grease in the kitchen and eliminates soap scum in the bathroom. Get it on Amazon here.
Sprayway Glass Cleaner
Made in America, Sprayway is the world's best glass cleaner. It is ammonia-free and always leaves even the dirtiest glass surfaces like doors, windows, and mirrors with a streak-free shine. It's a must-have product that smells great and gives your home a sparkling clean. Get it on Amazon here.
Bon Ami
This nontoxic cleanser has been scrubbing without harmful chemicals since 1886. It's great to remove scuff marks, dried-on food, moldy spots on grout and anything else that requires a little extra abrasion. Pro tip: use this to clean your stainless steel and it will shine like new! Click here to get it for your home.
Sh-Mop
For the cleanest floors you've ever seen, you'll need a team of Vella housekeepers and a Sh-Mop. This super efficient mop has a large washable terry cloth cover that our housekeepers wash and replace throughout the clean, so rather than just pushing dirty water around, your floors are actually scrubbed until they shine like new. And, unlike mops with disposable covers, this mop reduces waste, too.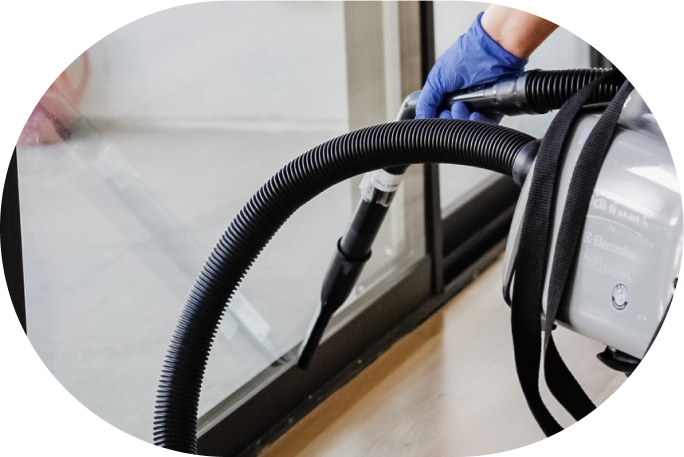 Sanitaire Professional Canister
This small but mighty machine has a basic filter built in and a HEPA filter added on to ensure that dust is completely removed from your home. We use its variety of attachments to clean corners, edges, upholstery, hardwood floors and rugs. Get it here.
Miele
The Miele Complete C3 canister vacuum has high suction power, hygienic filter bags, a high quality HEPA filter, and is gentle on your floors. We love the auto-retractable cord and the quiet "hmmm" of the motor that makes vacuuming something to look forward to! Get it on Amazon by clicking here.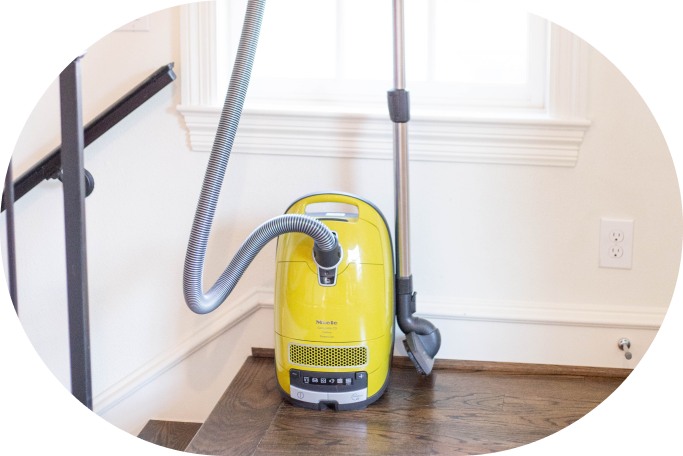 This is service at it's best.
I have the utmost respect for this team. They arrive punctually. They clean from top to bottom in every single room. When you arrive home after they have cleaned, the house smells fresh, the floors are shining, the surfaces and sinks are gleaming.

Claire H.
I highly highly recommend this company and their services.
First timer here and whew I can't express how happy I am after today. If you are on the fence about hiring some assistance to help clean, but you know you need that extra magical touch… DO IT. I highly highly recommend this company and their services. I was lucky enough to have team LD (Luz & Maricela) & they were wonderful. Not only were they kind, professional and thorough… but they also went the extra mile making sure everything was done properly. Will absolutely be back

daren b.
Would hire them again and again!
They did an amazing job cleaning our home! They listened to our requests on areas to focus on and left our home spotless before hosting a party that night. Did not even know my shower glass could look so clear and my floors so clean. Would hire them again and again!

Sarah e.
We love having them come over before we have visitors.
Yesenia and Lorrena have cleaned our space a few times and they always do very well. They are always a little early, very kind and detail oriented. When we arrive home after the cleaning, our beds are made and feel like a resort, towels are folded in a decorative way, our pantry is organized, and there's never dirt or dust in any corners. We love having them come over before we have visitors. We definitely recommend!

AUSTIN W.
My husband raved for a week about their cleaning service.
The team did an excellent job of deep cleaning and regular cleaning of our house. My husband raved for a week about their cleaning service. Being a three story house, it's not an easy house to clean. Joana and Adriana were very professional and worked very hard to make sure everything was done to our satisfaction. Well worth the money! Thank you Team T!

linda m.
Looking for a quote?
Take our Clean Quiz to find your customized clean.